The Westchester County Youth Bureau provides financial support, monitors and supports nonprofit agencies and organizations that provide programs and services to youth. The goal is to promote positive youth development and to encourage healthy lifestyles.
Our success relies on the delivery of our services in a supportive environment that encourages professional staff development and promotes shared leadership, teamwork and individual responsibility.
2020 Request for Proposal: Invest in Kids Youth Programs - Request for Clarification Responses Posted
The Youth Bureau is inviting eligible non-profit community based organizations and Youth Bureaus to respond the RFP for the 2020 Invest in Kids Program. This program will provide innovative positive youth development services, opportunities, and supports for "at risk" youth ages 21 and under.
The Request for Clarification Responses is now posted on RFP: 2020 Invest In Kids Youth Program. The informational video and all relevant deadline dates and updates can be obtained from the RFP site. This Request for Proposals is issued through the county's RFP process.
Dr. DaMia Harris-Madden, Executive Director
Dr. Harris-Madden is committed to providing quality programs for Westchester's youth. Read her message about the bureau's youth-directed programs.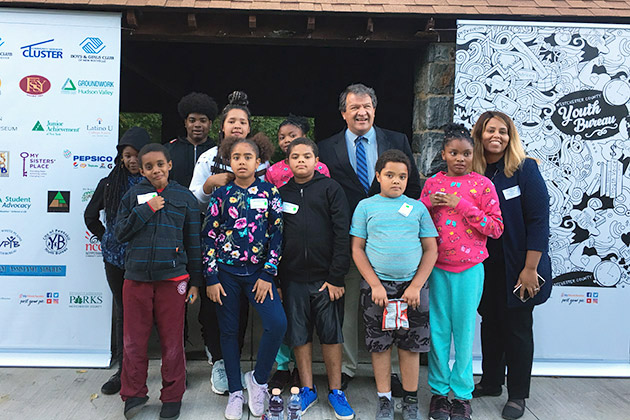 The Youth Bureau and CE Latimer in the community at Invest Fest.
County Executive George Latimer and Youth Bureau Director DaMia Harris-Madden with some of the youth at the Youth Bureau's Oct, 12, 2018 Invest Fest.