The Westchester County Youth Bureau provides financial support, monitors and supports nonprofit agencies and organizations that provide programs and services to youth. The goal is to promote positive youth development and to encourage healthy lifestyles.
Our success relies on the delivery of our services in a supportive environment that encourages professional staff development and promotes shared leadership, teamwork and individual responsibility.
2019 Youth Service Awards Nominations
Westchester County Executive George Latimer and the Westchester County Youth Board and Bureau are currently accepting nominations for the 2019 Youth Service Awards.
This year, the Westchester County Youth Board will honor youth who actively demonstrate leadership in addressing a social justice problem in their respective communities and/or school districts. Using social justice as a framework for systemic change, we are looking for youth who are organizing community service projects, community engagement events, or advocacy initiatives that highlight a form of injustice and promote a solution. Examples of social injustices can include, but are not limited to food insecurity, homelessness, racial, ethnic, gender, and/ or sexual orientation discrimination, ageism, homophobia, etc.
Nominees must be a current high school junior or senior that is a resident of Westchester County. These nominees should exhibit a commitment to leadership as described in the application.
The Youth Board will select up to ten nominees for recognition at the Youth Service Awards dinner to be held at Mercy College in Dobbs Ferry, on Tuesday, Oct. 29, 2019 at 6 p.m.
Completed nominations must be received no later than Sept. 23, 2019 and are to be submitted by e-mail to .
2020 Request for Proposal: Invest in Kids Youth Programs - Request for Clarification Responses Posted
The Youth Bureau is inviting eligible non-profit community based organizations and Youth Bureaus to respond the RFP for the 2020 Invest in Kids Program. This program will provide innovative positive youth development services, opportunities, and supports for "at risk" youth ages 21 and under.
The Request for Clarification Responses is now posted on RFP: 2020 Invest In Kids Youth Program. The informational video and all relevant deadline dates and updates can be obtained from the RFP site. This Request for Proposals is issued through the county's RFP process.
Dr. DaMia Harris-Madden, Executive Director
Dr. Harris-Madden is committed to providing quality programs for Westchester's youth. Read her message about the bureau's youth-directed programs.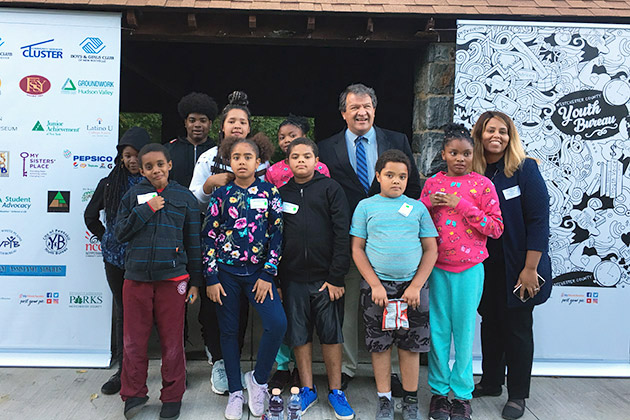 The Youth Bureau and CE Latimer in the community at Invest Fest.
County Executive George Latimer and Youth Bureau Director DaMia Harris-Madden with some of the youth at the Youth Bureau's Oct, 12, 2018 Invest Fest.